There are a few enchanting places in this world which, once you have visited them, you will never forget. One such place is Kyrgyzstan - a remote and mysterious place to many, yet one filled with exotic sights, colourful and pleasant people, and ruggedly beautiful scenery. Until just recently a "backward backyard" of the former USSR, Kyrgyzstan was a closed country, forbidden to most people.
We have a beautiful country of which 94% is in mountains.The sheer untouched beauty of our mountains,and the frequently-used paths and observation platforms, are majestic and intact.
We have unsullied rivers and lakes, remote and untouched high mountain peaks. The vast and majestic nature charms the visitor, bringing him or her closer to the actual meaning of life.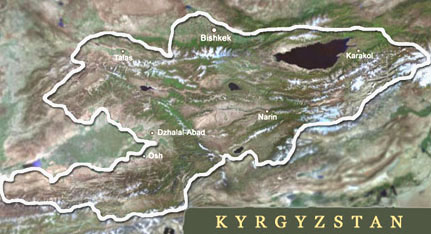 True - outside our capital, Bishkek, we do not have many high- class hotels and restaurants, comfortable roads and cosy campsites. But they are in the process of development, and we are confident that all of this will soon come.